30 Jan

Office Coffee: The Best of Both Worlds

Philadelphia workers rely on a good cup of coffee (or two … or three) to get them through the workday. That is why a great office coffee program is essential to keeping employees satisfied and on-site. Selecting the right office coffee brewing system is key: and local refreshment supplier One Source Refreshment is offering the Philadephia area an exclusive brewing system with a distinct set of advantages. It is called the Bodecker brewing system and it might just be the smartest choice in office coffee brewing systems.
Single-cup convenience 
Single-cup brewers are popular because of their convenience. Another huge perk is the large variety of coffee flavors and options available. The Bodecker brewing system from One Source Refreshment offers the same conveniences and variety, including a dozen brews in varying strengths. They also offer blends that capture the indulgent flavors of french vanilla, caramel, roasted hazelnut, and dark chocolate.
Bodecker has developed a unique extraction process, using precise temperature and pressure, as well as a specially developed filter. This process captures great balance and taste. Plus, in addition to its coffees, Bodecker carries a delicious assortment of black and herbal teas, hot chocolate, and chicken soup.
Elevated gourmet taste
The Bodecker CX Touch brewer is also uniquely capable of providing premium, mixed coffee beverages like espressos, mochaccinos, lattes, and more. The Bodecker brewing unit contains soluble milk and chocolate. It allows for freshly composed, rich, frothy toppings. This is an enhancement that draws Philadelphia coffee lovers to the Bodecker brewing system and gives it an advantage over traditional, single-cup brewers. One Source Refreshment's customers in the greater Philadelphia area love that with the Bodecker CX touch they are able to bring a true coffee shop experience right to the office.
Always Eco- friendly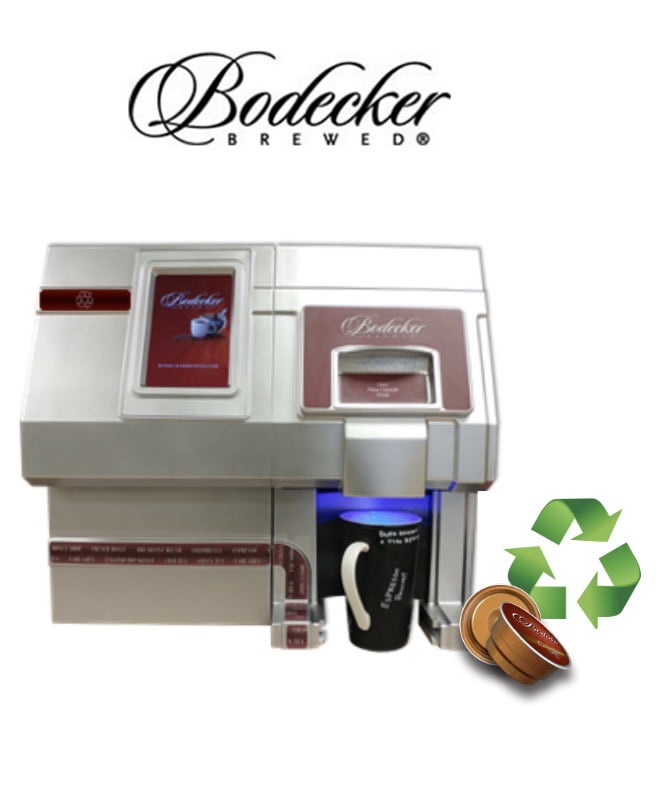 Bodecker has developed its very own "Bob-cup" and it has a distinct advantage over traditional single-cup pods. The "Bob-cup" is 100% recyclable. Both the cup and lid are made from fully recyclable aluminum and can be recycled the same way as soft drinks and other aluminum cans. This is a major selling feature, as Philadelphia companies strive to become more eco-friendly. One Source Refreshment notes that many companies are now supplying reusable coffee mugs in the break room next to their Bodecker brewing unit, or are encouraging their employees to bring their own coffee mugs from home, to completely eliminate waste.
One Source Refreshment has seen a tremendous response to the Bodecker brewing system. And, as Philadelphia companies continue to pursue an elevated coffee experience for their employees, they foresee the demand growing.  If your company is interested in learning more about the Bodecker brewing system, contact One Source Refreshment for a free consultation.
One Source Refreshment offers complete vending, office coffee, micro-market, pantry, and water filtration services. They serve the greater Philadelphia area, Lehigh Valley, Lancaster and Berks counties, New Jersey, and Delaware. For a free refreshment consultation, call 800-549-3190.