16 Dec

Office Coffee: Bean to Cup or Single-Cup?

Premium office coffee is becoming more and more desired in Philadelphia workplaces. Gone are the traditional pots, sitting on warmers, getting stale while waiting for the next pour. Employees want a better option: a fresh cup of coffee on demand. Both Bean to Cup and Single-Cup brewers have this feature. But which one is better suited for your office?

Philadelphia-based refreshment services company One Source Refreshment guides companies towards the best office coffee choice for their employees. And they have advised us on several factors to consider:

Cost

There are trade-offs between Bean to Cup and Single-Cup brewing systems when it comes to expenses. Single-cup brewers are affordable pieces of equipment, but stocking them with an assortment of single-cup pods can add up. Bean to Cup brewing equipment is more expensive. After the initial equipment investment, however, replenishing whole coffee beans are more affordable than disposable pods.

Maintenance

Keeping a Bean to Cup brewer in top working order requires a little bit of attention, but fans of the system believe it is well worth it. Refilling the coffee bean hopper(s) and the soluble chambers is a responsibility that someone in the office will need to take on. When it comes to maintenance, single-cup brewers are extremely convenient, with almost no upkeep or mess.
Freshness & Flavor
Nothing beats the freshness of a Bean to Cup brewer. Beans are ground immediately before brewing to make the freshest possible cup of coffee. Additionally, whips and froths are composed while your cup is being prepared. Single-Cup machines also brew immediately before serving, but the pods contain pre-ground coffee. And there is no way to know how many weeks or months ago the grinding process occurred.
As for flavor, Bean to Cup brewers automatically control the ratio of water to coffee grounds once the size of the pour is selected. This produces the same strength of flavor, regardless of size. This is not possible with a single cup brewer because the amount of coffee is already pre-measured in the pod. A smaller pour will yield a stronger cup of coffee and a larger pour will be weaker.
Variety
Philadelphia employees that are brand conscious about their coffee love that favorites like Wawa and Starbucks are available in single-cup pods. There are also pods for specialty drinks, flavored teas, hot chocolate, and even soup! With so many brands and varieties of beverages available, everyone in the office can satisfy their tastes. A Bean to Cup brewer specializes in premium coffee beverages like espresso shots, cappuccinos, lattes, mochaccinos, and more. They also offer a hot water dispenser for tea. There are Bean to Cup machines available with multiple bean hoppers that allow companies to offer a few additional bean varieties, like decaffeinated.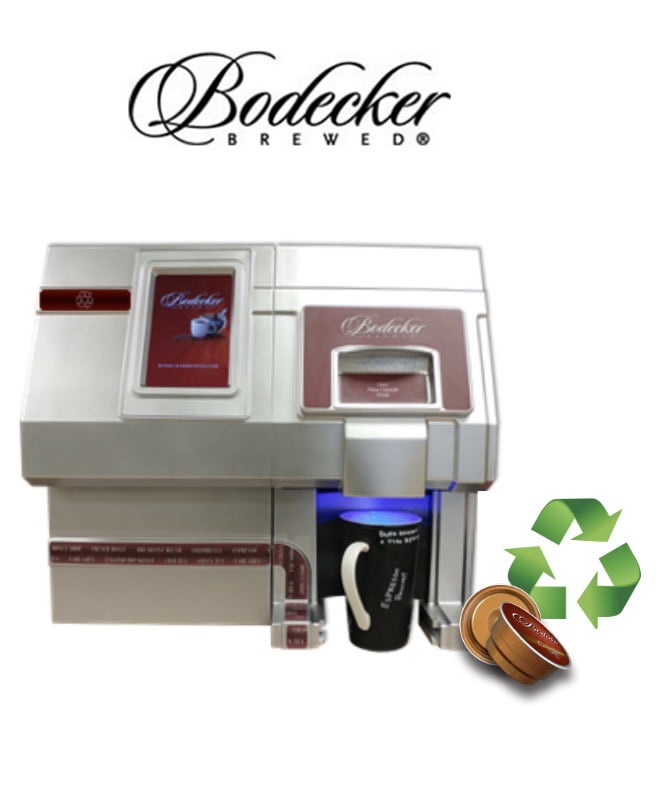 The Best of Both Worlds?
For clients that are having trouble deciding between the two brewing systems, One Source Refreshment offers the exclusive Bodecker CX Touch. It provides the convenience of single-cup pods plus a soluble chamber for creating fresh whips and froths. Bodecker's individual coffee cartridges, called "Bob-Cups", are brewed under pressure in a unique brewing chamber. The process involves precise water pressure, temperature control, and flow rate for uniform extraction and delicious taste. Bodecker's Bob-Cups are also made from aluminum and 100% recyclable.
Choosing the right brewing system for your break room ultimately comes down to understanding what qualities your company wants in a brewer the most.  For some, a clean, convenient solution is optimal. Others value freshly ground, premium coffee drinks above all else. One Source Refreshment can help companies in the greater Philadelphia area decide which option best suits their needs by providing further information, coffee demonstrations, and expert advice.
One Source Refreshment offers complete vending services to clients in the greater Philadelphia area, Lehigh Valley, New Jersey, and Delaware. To schedule a free consultation, call 800-549-3190.