26 Feb

Healthy Refreshments Taste Better Than Ever in Philadelphia: Vending Serves It Up In Spades

Have you noticed how busy the break room is nowadays in Philadelphia? The refreshment area plays a more important role in employees'
lives, thanks to the great selections now available that not only taste good, but allow consumers to follow healthy diets.
One reason many consumers are snacking more is that unlike in years past, they know they can get their nutrition in the snacks they eat.
Another reason is that the taste of healthy products has improved considerably. Some of us can remember a time when "better for you" had an association with being bland and tasteless. Those of us who have been in the refreshment business a long time are well aware of the change. People are buying "better for you" snacks and beverages because they know they don't have to sacrifice good taste to follow healthy diets.
A lot of the credit goes to product manufacturers that have focused on developing great-tasting lines of snack mixes, bars, teas and waters.
General Mills Cereals has committed to removing artificial flavors and colors in response to consumers' changing preferences. Today, more than 60 percent of General Mills Cereals such as Cinnamon Toast Crunch and Original Cheerios are without artificial flavors and colors.
The company plans to have more than 90 percent of its portfolio free of artificial flavors and colors by the end of the year.
"At General Mills Cereals, we have been upgrading the nutrition and ingredients in our cereals for years to meet people's needs and desires," said Jim Murphy, president of the General Mills cereal division. "We've continued to listen to consumers who want to see more recognizable and familiar ingredients on the labels and challenged ourselves to remove barriers that prevent adults and children from enjoying our cereals."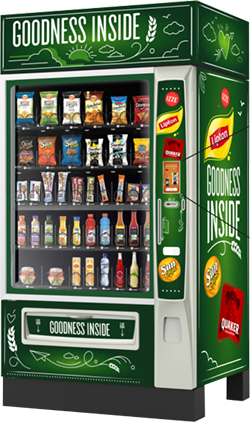 Trix and Reese's Puffs will be among the first of the remaining brands to change. Trix will use ingredients like fruit and vegetable juices and spice extracts such as turmeric and annatto to achieve the red, yellow, orange and purple colors. Reese's Puffs will continue to use peanut butter and cocoa and incorporate natural vanilla flavor to achieve the same great taste that adults and children have always enjoyed.
Not only is taste of "better for you" products getting better, but the availability of these items is growing as well in Philadelphia. This is where vending plays an important role. The product manufacturers are aware of the role vending plays in consumers' lives, and they're packaging their healthy products for vending in Philadelphia.
PepsiCo recently revealed its Hello Goodness vending initiative, offering good- and better-for-you product choices from the company's food and beverage portfolio. It features a thoughtfully-chosen selection of PepsiCo products such as such as Naked Juice, Smartfood Delight popcorn, Lay's Oven Baked potato chips, Quaker Real Medleys bars, Pure Leaf iced tea, Propel Electrolyte Water, Tropicana Pure Premium and Sabra Ready-to-Eat Hummus cups.
"Consumers want more choice when it comes to what they eat and drink on-the-go, and we're providing the choices they want," said Kirk Tanner, chief operating officer at PepsiCo North America Beverages. "For years, PepsiCo has been transforming its portfolio to offer more and better food and beverages. We're continuing this journey with our new Hello Goodness vending initiative."
Not only are the food and beverage companies offering healthy items; many are changing their products to fit these shifting consumer preferences. And they're packaging them so they can make them available in the workplace.
The break room is at the forefront of today's healthy eating movement.
For more information about healthy snack and beverage options available in Philadelphia, contact your vending partner One Source Refreshment at 800-549-3190 to discuss your customized break room solution.